EVENTS & FUNCTIONS x 428 MALVERN RD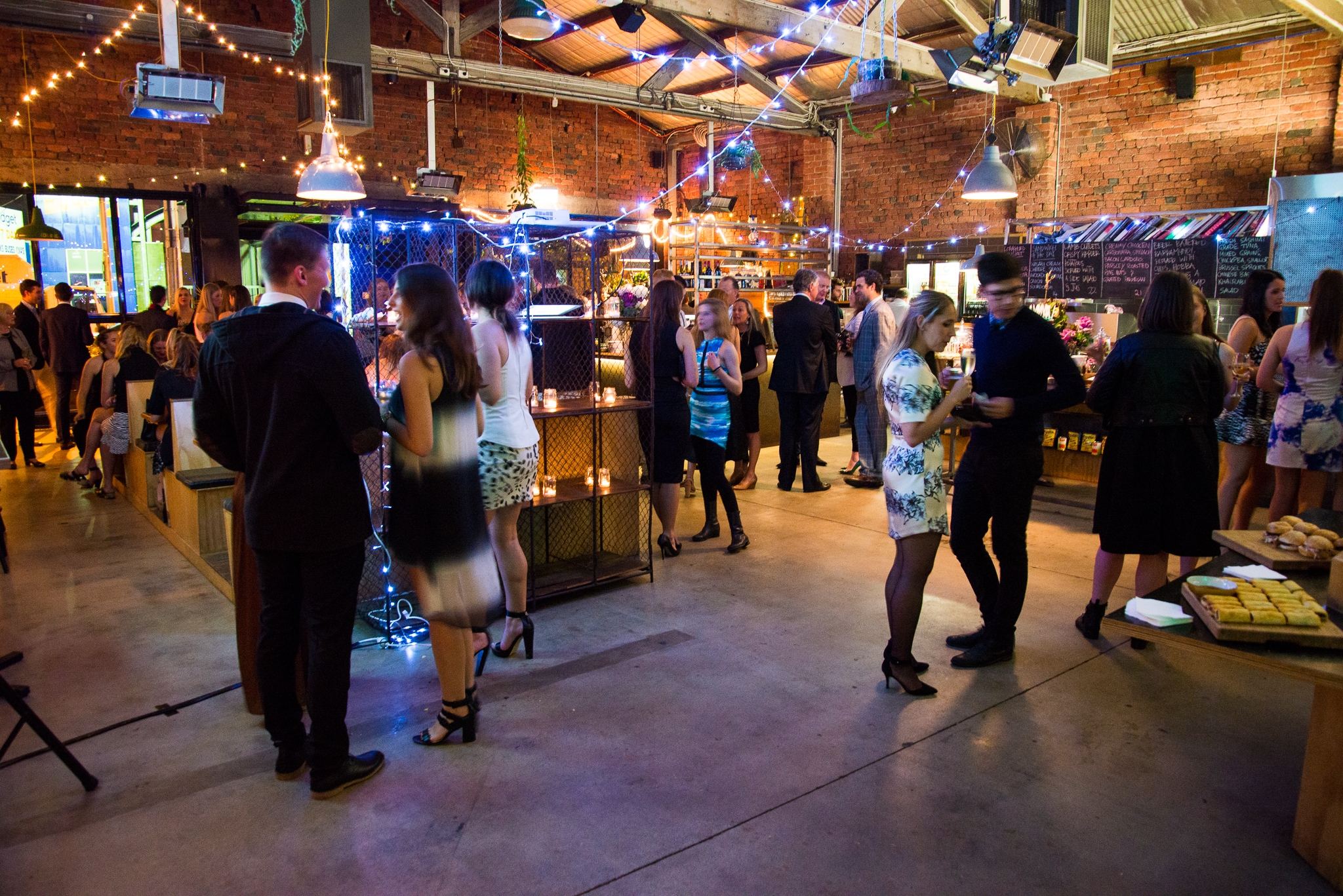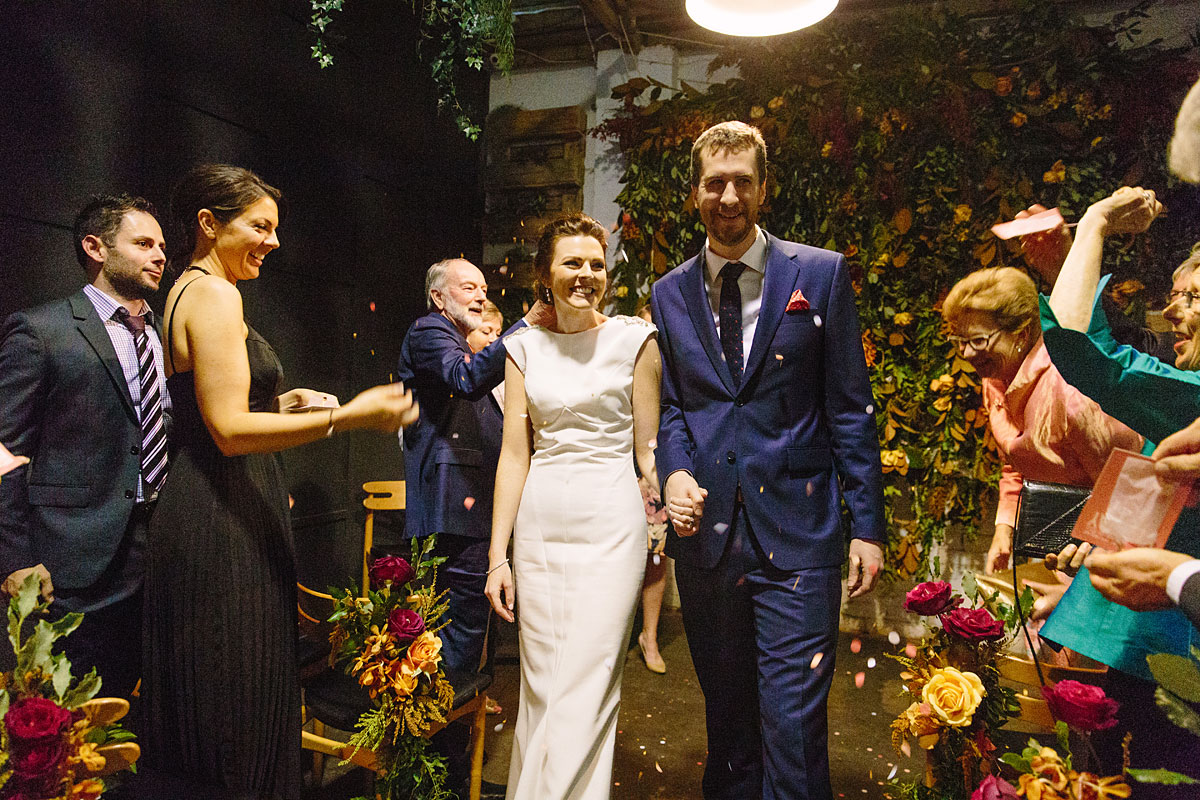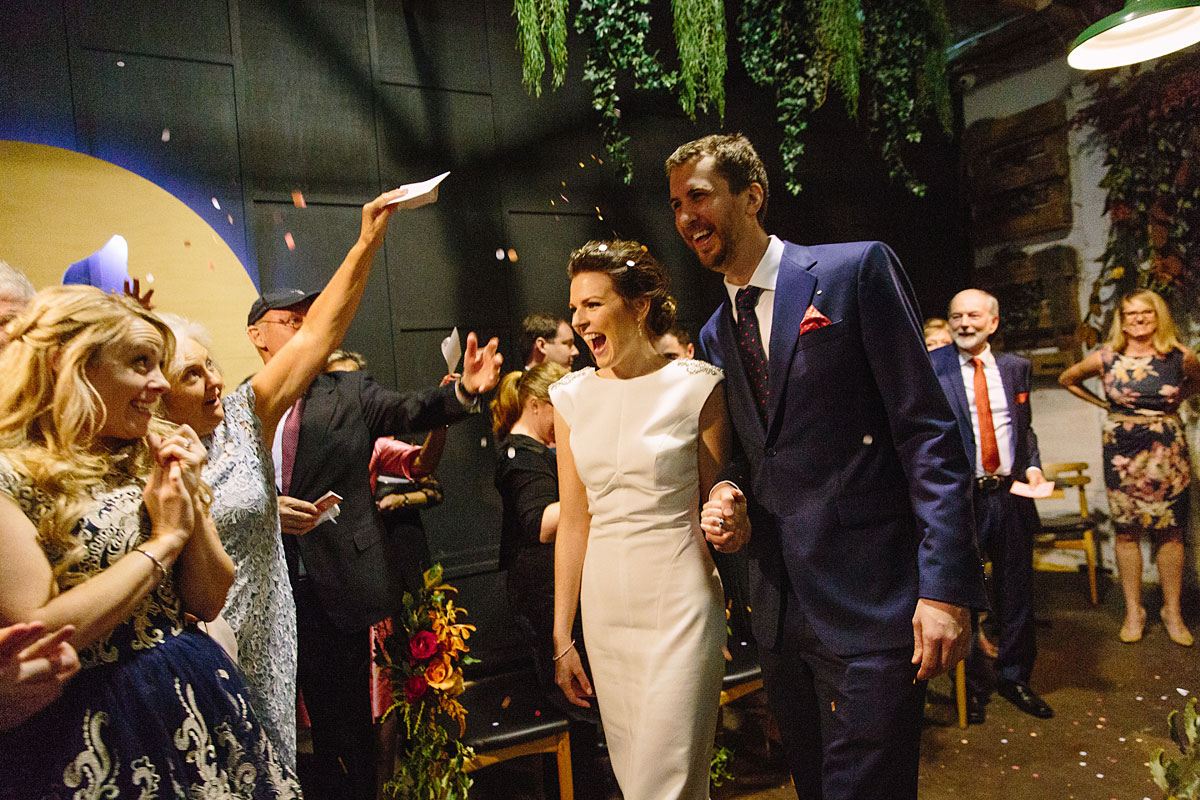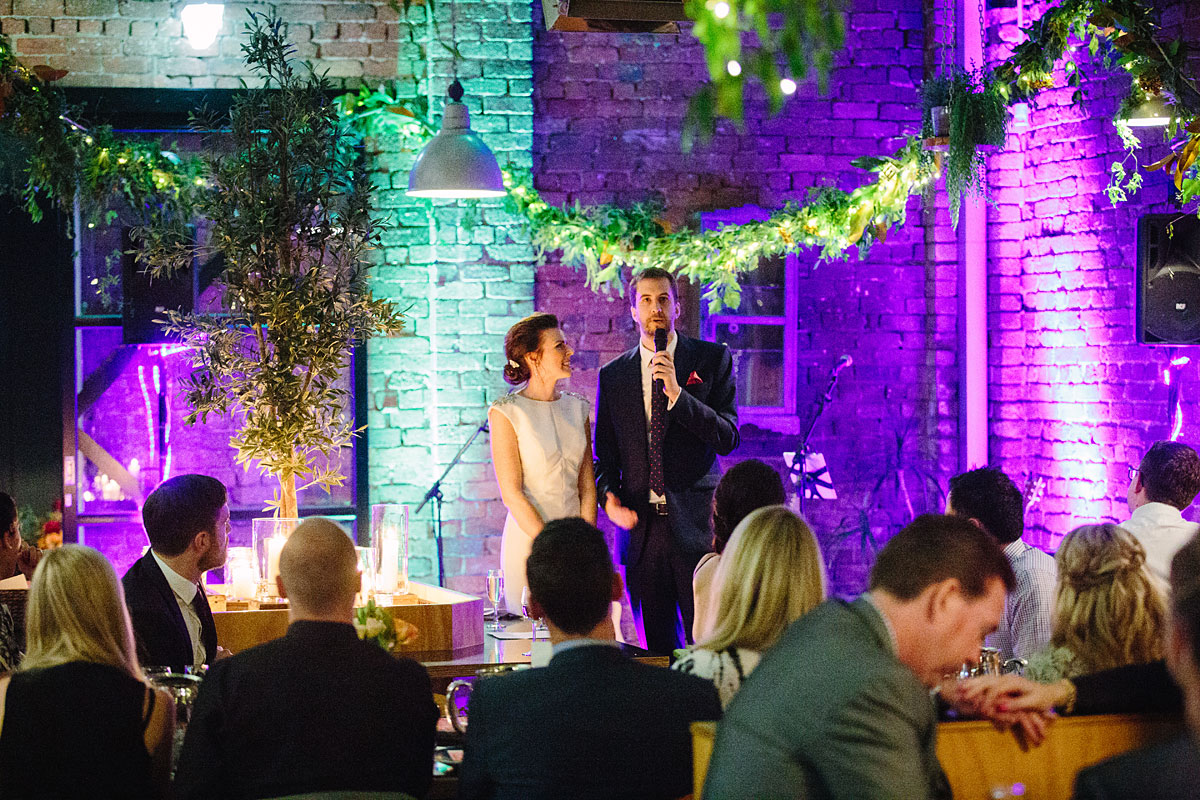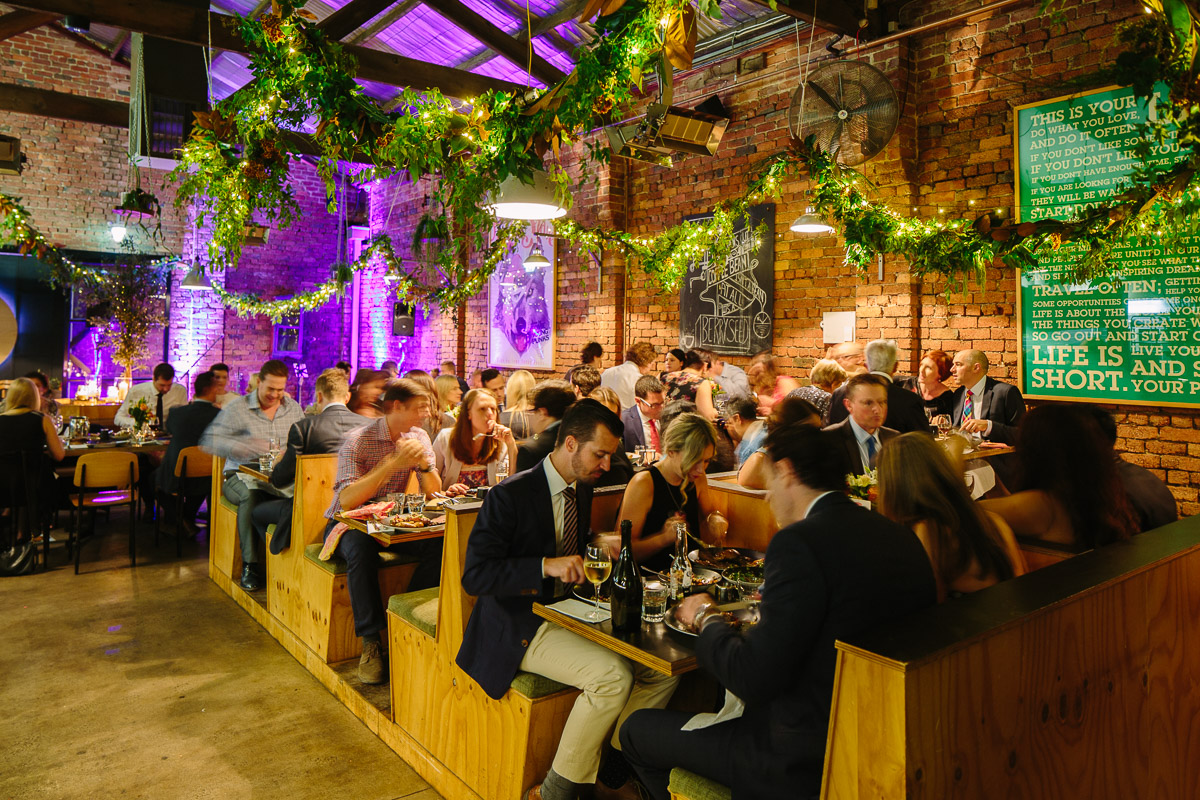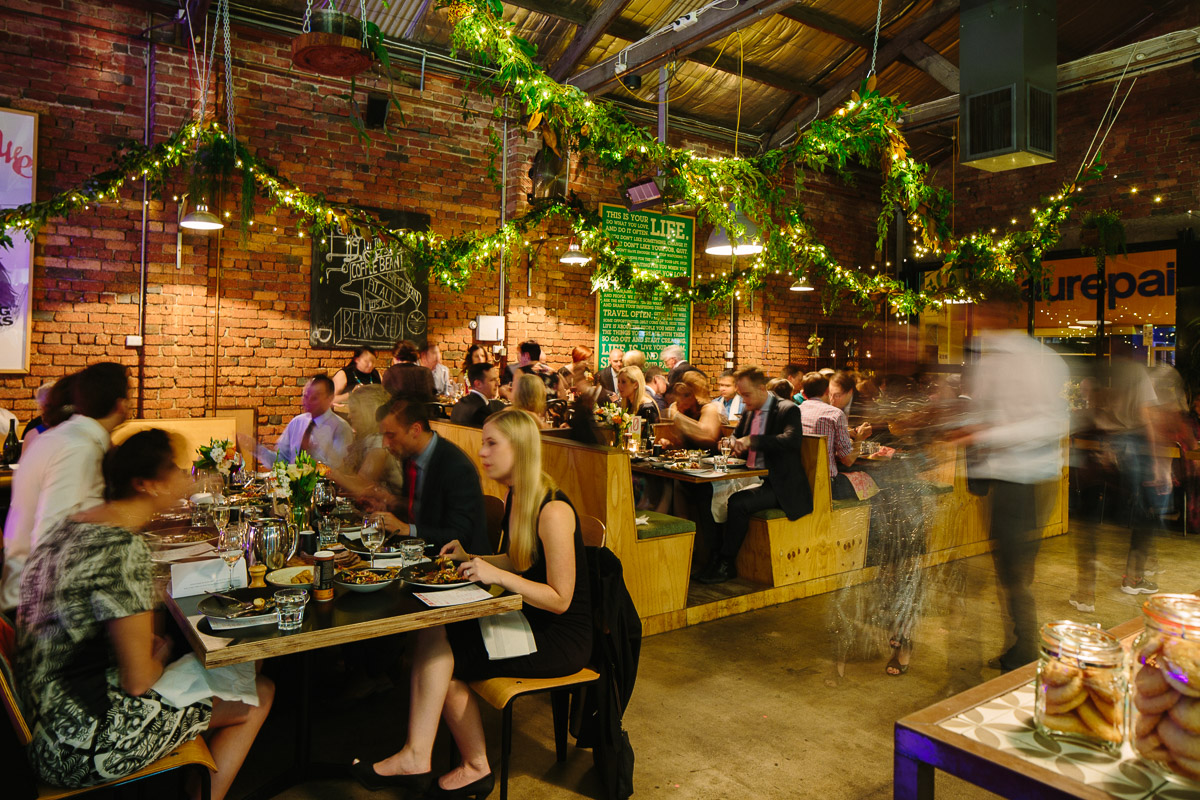 "Hobba is a warm, rustic and open space that is perfect blank canvas for hosting events."
Hobba is suitable for a wide range of events and functions. Whether you're looking to host a company gathering, product launch, wedding reception, or a birthday party, we are here to help you make the most of your event.
We specialise in stand up events, with a maximum capacity of 200 people. Depending on the requirements of your event, Hobba's flexible open space can transform into a collection of independent spaces.
Our kitchen delivers honest, locally produced food with big flavour. Our food and beverage packages can be tailored to you needs by offering both small bite sized bits and more substantial plated dishes.
"The building was originally a tyre fitting workshop, and now offers a unique and versatile charm."
Hobba events &
functions Menu
Casual
From $30 per head
5 CASUAL
RARE BEEF EN CROUTE WITH HAZELNUT ROMESCO AND RADDISH (GFO, DF)

LAMB KOFTA WITH SUMAC YOGURT (GFO)

PULLED PORK AND SLAW SLIDERS ON BRIOCHE BUN

WAGYU CHEESE BURGER SLIDER ON BRIOCHE BUN

ARANCINI BALLS WITH MOZZARELLA AND PESTO

POLENTA CHIPS WITH LEMON AND GARLIC AIOLI (GF)

AVOCADO AND CUCUMBER SUSHI WITH TAMARI SOY (GF, VEGO, VEGAN, DF)

SELECTION OF GOURMET SAVOURY PIES AND SAUSAGE ROLLS

SELECTION OF VEGETARIAN QUICHES AND SPINACH AND CHEESE FILO PASTRIES

SATAY OR TERIYAKI CHICKEN SKEWERS (GF)

VEGETARIAN GYOZAS

SALT AND PEPPER CALAMARI WITH KIM CHI MAYO

TEMPURA VEGETABLES WITH ASIAN DIPPING SAUCE
Gourmet
From $45 per head
4 CASUAL, 2 GOURMET
SOY AND SESAME TUNA SASHIMI ON WONTON CROSTINI

PULLED BRISKET AND RACLETTE CROQUETTES

SOFT SHELL CRAB SLIDERS ON BRIOCHE BUN WITH ASIAN SLAW AND SIRACHA MAYO

SOUTHERN FRIED FISH TACOS WITH CHARRED CORN & TOMATO SALSA WITH AVOCADO & CRÈME FRAICHE MOUSSE

FRIED CHICKEN BAO BUNS WITH PICKLED VEGE, KIMCHI HOISIN AND PEANUT CRUMB

CRAB CAKES WITH CHILLI CARAMEL AND LIME

CRUMBED TIGER PRAWNS WITH SWEET CHILLI AIOLI (GFO)

SMOKED SALMON EN CROUTE WITH DILL AND CAPER CRÈME CHEESE AND SALMON CAVIAR PULLED LAMB SPRING ROLLS WITH TZAZTIKI

SEARED SCALLOPS WITH CAULIFLOWER PUREE, BLACK PUDDING CRUMB & PRESERVED LEMON (GF)

FRESH SHUCKED OYSTERS, NATURAL WITH LEMON & SHERRY MIGNONETTE, KILPATRICK, BLOODY MARY SHOOTERS (GF)

PARMESAN AND HERB CRUSTED LAMB CUTLETS
CHARGRILLED LAMB CUTLETS WITH CHIMICHURRI (GF)

SAGANAKI FINGERS WITH ROSEMARY HONEY (GF, VEG)

SUPERFOOD SALAD OF QUINOA, BEANS, BRUSSEL SPROUTS, SNOWPEAS, PICKLED SHALLOTS, SOFT HERBS AND POMEGRANATE WITH LEMON VINAIGRETTE (GF, VEG, VEGAN)

PORK AND PRAWN DUMPLINGS WITH SOY AND VINEGAR
Substantial
From $65 per head
3 CASUAL, 2 GOURMET, 1 SUBSTANTIAL
TERIYAKI CHICKEN, JAPANESE RICE, SESAME, MISO MAYO AND SPRING ONION (GF)

BUTTER CHICKEN, BASMATI RICE CUCUMBER RAITA AND PAPADAM (GFO)

AROMATIC CONFIT DUCK, WITH SOBA NOODLE SALAD AND NHAM JIM DRESSING (GFO) MASTERSTOCK BRAISED PORK BELLY, STICKY RICE WITH EDAMAME AND KEWPIE (GF)

CHICKPEA LENTIL AND POTATO CURRY WITH BASMATI RICE AND NAAN BREAD (GFO)

BEER BATTERED MARKET FISH AND CHIPS, TARTARE SAUCE AND LEMON (GFO)

PAN SEARED HAPUKA SEASONAL GREENS AND JALAPENO CRÈME FRAICHE SAUCE (GF)

MUSHROOM RISOTTO WITH TRUFFLE AND PECORINO (GF)

SOUS VIDE EYE FILLET, CREAMY MASH POTATO, RED WINE JUS (GF)
Desserts
From $10 per head per item
BAILEY'S CRÈME BRULEE (GF)

TIRAMISU TRIFLES

MINI PAVLOVAS (GF)

SEASONAL FRUIT WITH SORBET (GF)

SELECTION OF PETIT FOURS
"It doesn't matter if the glass if half empty of half full. There Is clearly room for more wine."
Hobba Drink Offerings
COCKTAILS, MOCKTAILS & SPIRITS ALSO AVAILABLE. CONTACT FOR EVENT KIT.
Tipsy
from $35 per head
5 DRINKS PER PERSON
PROSECCO, ITALY D.O.C.

D.O.C PINOT GRIGIO, VIC 2016 ON TAP

D.O.C. SANGIOVESE/ CABERNET, VIC 2016 ON TAP

LAGER OR PALE ALE ON TAP (SEASONAL)
Happy
from $40 per head
5 DRINKS PER PERSON
PROSECCO, ITALY

TATOU, SAUVIGNON BLANC, NZ

DEAD DUCK, PINOT NOIR, VIC

D.O.C PINOT GRIGIO, VIC 2016 ON TAP

D.O.C. SANGIOVESE/ CABERNET, VIC 2016 ON TAP

CORONA BOTTLES

LAGER OR PALE ALE ON TAP (SEASONAL)
Silly
from $45 per head
6 DRINKS PER PERSON
D.O.C. PINOT GRIGIO, VIC 2016 ON TAP

D.O.C. SANGIOVESE/ CABERNET, VIC 2016 ON TAP

LAGER OR PALE ALE ON TAP (SEASONAL)

PROSECCO, ITALY

TATOU, SAUVIGNON BLANC, NZ

SOME YOUNG PUNKS, MONSTERS MONSTERS ATTACK! RIESLING, SA

DEAD DUCK, PINOT NOIR, VIC

FOX CREEK SHIRAZ MCLAREN VALE 2014

WHITE RABBIT DARK ALE BOTTLES

CORONA BOTTLES
"We would love to work with you to make your experience stress free and as memorable as possible."
BOOKING INQUIRY
To learn more about Hobba's event space, and our food and drink offerings please email events@hobba.com.au or submit an inquiry online.
WE ARE HERE
428 Malvern Road
Prahran, VIC 3181
03 9510 8336
Open daily from
7am - 4pm
Sundays and public holidays from 8am - 4pm
Hobba is located within a short walk from various public transport stops making it an easy destination from all over the city. Hobba encourages the reduction in the use of cars and promotes the use of alternative travel methods when an event is being held. The Hawksburn train station (Cranbourne, Pakenham and Frankston lines) is a quick five- minute walk away, and stop 33 on tram route 72 is right outside Hobba. Hobba is located 600m from Chapel St and its taxi ranks.
There is limited on street parking available in the immediate area, with a clearway/loading zone directly outside Hobba on Malvern Rd during the day varying parking restrictions apply in the surrounding streets, on the opposite side of Malvern Rd there is a 1 hour parking limit; and on Francis St, adjacent to Malvern Rd, there is a 2 hour parking limit. Hobba encourages taxiing or car pooling to get to and from your event.